Internationally recognized record label Mode Records' recordings of impeccable performances, captured with the highest quality sound, have earned it great critical acclaim and a loyal following.
A small independent company, Mode's catalog of over 300 releases includes music of the great composers of the latter 20th century and today's aspiring contemporary New Music artists. Beginning with its first release in 1984, created in collaboration with composer John Cage, Mode has presented uniquely curated releases with a personal vision of producing fine recordings which are not necessarily a part of current mainstream music fashion, but which need to be heard.
The label's musical arc spans from the international innovators of the late 20th century avantgarde through to today's fine composers and musicians. Mode's catalog tends toward exploring a composer's work in depth. Its reputation has brought many great composers and artists to record for and be documented by Mode — and continues to do so.
Mode's "curated" aspect is important. It is not a label run by committee but rather one built on a personal vision. Listeners who follow the label, as well as the composers and artists who have and continue to record on it, know what to expect of the music released on Mode.
At 54 volumes, Mode's John Cage Edition is the largest collection of the composer's music on one label, with more to come. Further Editions are dedicated to iconic composers Morton Feldman, Iannis Xenakis, Morton Subotnick, and Giacinto Scelsi along with many others.
Mode has frequently been at the forefront of innovation. It released its first CD in 1988. It released the very first 5.1 surround sound New Music DVD in 1998 (Roger Reynolds' "Watershed," mode 70), and continues to be a proponent of surround recordings with the largest catalog of such New Music releases of any label.
Mode continues its belief in the value of physical product (CDs, DVDs, Blurays and recently again, vinyl) in tandem to digital sales. Mode is distributed in North America, Europe and Japan through various distributors. Its entire catalog is available for download and streaming worldwide via Naxos — the largest independent classical distributor — to all digital providers.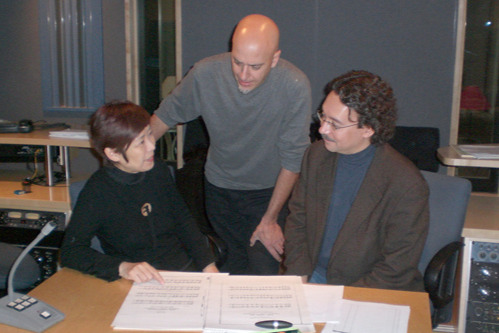 A Personal Note
I was always an avid music lover, record collector and listener. While I did not intend to start a record label, it happened thanks to a "chance" encounter with John Cage, when I offered to release a record of his recent works because, as Cage said, "no other label seemed interested." And so the journey began.
Working with Cage from 1984 until his death in 1992, I learned much about the interpretation of his music, a truly enlightening and valuable experience. Through Cage I met countless wonderful musicians and composers, and through them countless more. Mode Records expanded to encompass many of my musical interests, and continues to do so. I am sincerely grateful to have this opportunity to work with so many outstanding, generous composers and musicians over the years, enriching my life — and I hope, the lives of others through Mode's releases. By properly documenting the work of those now gone, those present, and those of the future, I hope to carry on this legacy.
— Brian Brandt, Mode Records, November 2020