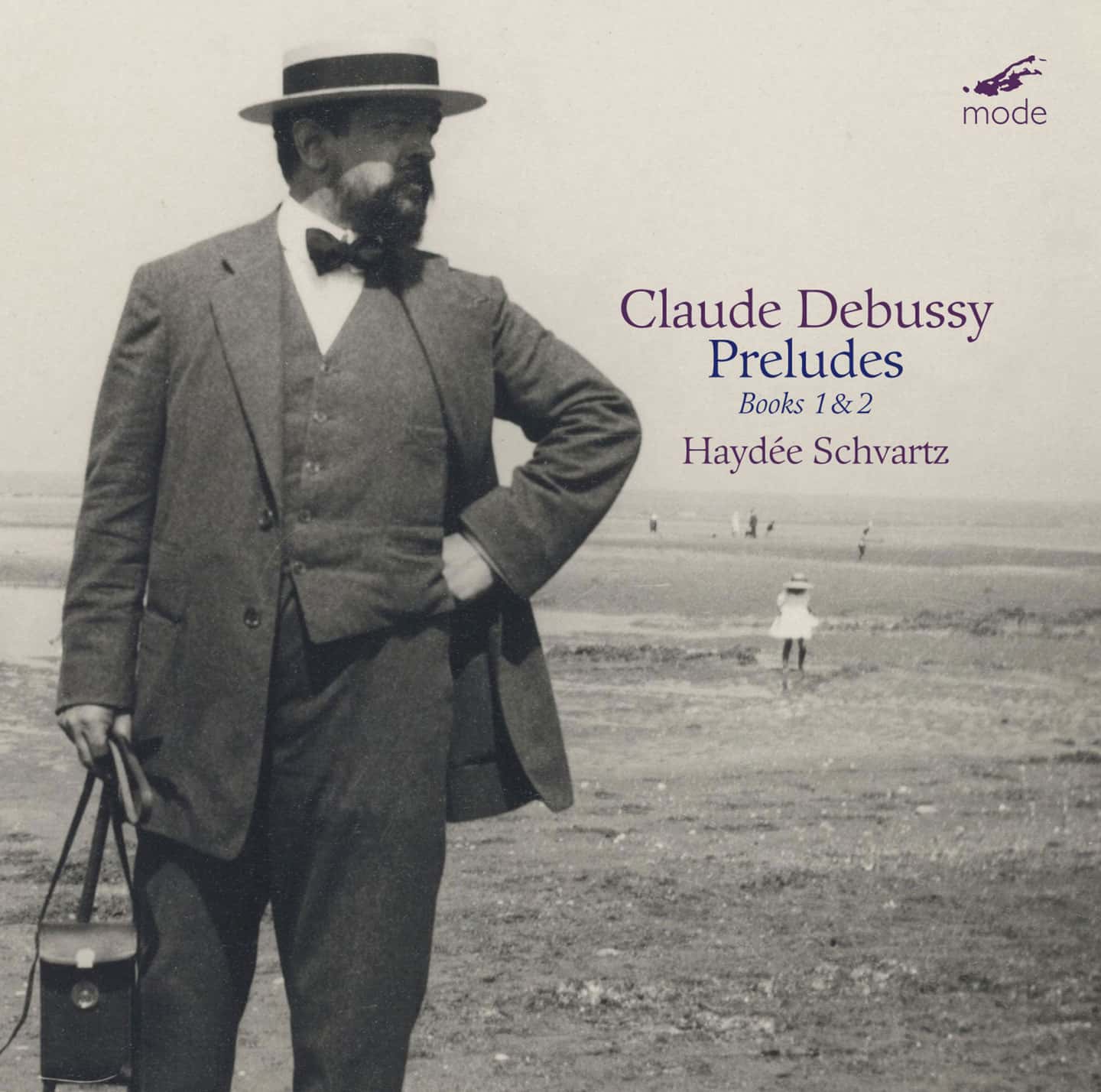 Haydée Schvartz - Debussy
(1862-1918)
mode 322/23
Preludes Books 1 & 2
$29.99
mode 322/23  Claude DEBUSSY: Preludes, Books 1 & 2 — Haydée Schvartz, piano (2-CDs)
In stock
Mode 322: Claude Debussy - Preludes.
Preludes Books 1 & 2
mode 322/23  Claude DEBUSSY: Preludes, Books 1 & 2 — Haydée Schvartz, piano (2-CDs)
---
Reviews
5 Stars:


Beautifully played and recorded Debussy Préludes by Haydée Schvartz.
This most welcome collection of the complete Debussy Préludes, performed by Argentine pianist Haydée Schvartz, and issued by the mode label, was recorded at the New England Conservatory of Music's Jordan Hall in the summer of 2003. From a purely sonic perspective, it is a glorious achievement, with the piano reproduced in sound both natural and arresting in its impact. The tone is full, rich, beautiful, and encompassing a grand dynamic range. There is also ample detail, but without any sense of artificial spotlighting. And we are fortunate that the recording/production team achieved such superlative results, because Haydée Schvartz's renditions of the Debussy Préludes deserve them to the fullest. There are several marvelous qualities in Schvartz's interpretations, but the one that most often came to my mind is embodied in a comment by Clara Schumann. Once, when a piano student attempted to impress by playing a passage at lightning speed, Schumann admonished: "Why hurry over beautiful things? Why not linger and enjoy them?" And that is what Haydée Schvartz does in her exploration of the Debussy.
Schvartz's phrasing is that of an artist who has thought a great deal about the music, and who seeks to convey fully the work's melodic, harmonic, rhythmic, coloristic, and narrative elements. Schvartz proves to be a masterful storyteller, and she delights in conveying the imagery conjured by Debussy's Impressionist writing. Whether it's the mysterious grandeur of The Sunken Cathedral, the brittle humor of General Lavine—eccentric, or the flitting magic of Fireworks, Schvartz proves equal to the challenge. And her approach to the Debussy Préludes, while rich in detail and variety, never impinges upon their sense of forward motion.
It should be added that when the music calls for brilliant, virtuoso execution, Schvartz is highly impressive in those moments as well. As a very welcome bonus, pianist Schvartz joins baritone Brian Church for Henry Blossom and Alfred G. Robyn's song "Ain't it funny what a difference just a few hours make". That song, from the musical comedy The Yankee Consul, makes an appearance in Debussy's Prélude Minstrels. Schvartz also includes another, and quite different rendition of the Prélude Footsteps on the Snow, demonstrating her conviction that: "I truly believe in two different musical approaches to this prelude in relation to the sonorous construction of the piece."
It would be wonderful if more artists (recording space permitting) would share these kinds of contrasting insights with us. Schvartz's liner notes re. Debussy, and the history, inspiration, and music of the Préludes are engaging and informative. This is a laudable achievement in every way, and one that I am delighted to recommend.
— Ken Meltzer, Fanfare, January 2021
---
Links
Video
---
More mode 322/23 video and background information.
Published on YouTube: